Safemoon and Bitgert prices have diverged in the past few weeks. On the one hand, Safemoon's price has dropped by over 12% from its highest level in August while Bitgert's BRISE has jumped by almost 170% from its lowest level this month.
Bitgert and Safemoon are two of the most popular small cap cryptocurrencies in the world. Safemoon was launched during the meme coin frenzy in 2021. At its peak, Safemoon price surged to an all-time high of $0.0024.
This rally happened as a number of well-known celebrities and influences endorsed the coin. It has slumped by over 85% from its peak as concerns about the ecosystem have remained.
Read more on Cryptocurrencies and investments:
Safemoon price has crashed because of the rising worries that the coin is not genuine. A recent analysis by CoinZilla warned investors that the coin was actually a pump and dump scheme.
He warned users about the various gaps in its ecosystem. Also, many high-ranking officials decided decided to quit, sending red flags about the ecosystem.
Bitgert, on the other hand, is a smart contract platform that seeks to become the best platform for developers to build applications. It is built on top of the BNB Chain, which was created by Binance. Bitgert has extremely fast speeds and low costs. According to its website, it can process millions of transactions for just a few dollars.
Bitgert price has rallied in the past few months as investors cheer the platform's growth. The total value locked (TVL) in its ecosystem has jumped from less than $500k in May to over $10 million, according to data compiled by DeFi Llama.
Safemoon price prediction
The four-hour chart shows that the SFM price has been in a tight range in the past few days. It has managed to rise by about 10% from the lowest level this month. The coin remains slightly below the descending trendline shown in green.
A closer look shows that it has formed what looks like an inverted head and shoulders pattern.
Therefore, there is a likelihood that the Safemoon price will have a bullish breakout soon. If this happens, the next key level to watch will be at $0.0005, which is about 30% above the current level. A drop below the support at $0.00037 will invalidate the bullish view.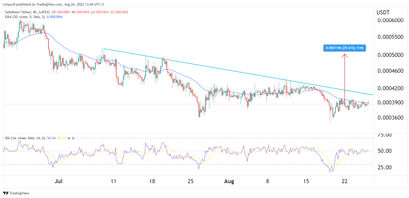 Bitgert price prediction
On the four-hour chart, we see that the BRISE price has been in a strong bullish trend in the past few weeks. In this period, the coin managed to rise above the 25-day and 50-day moving averages. It has also formed a double-top pattern, which is usually a bearish sign.
Therefore, while the overall trend is bullish, a bearish breakout cannot be ruled out. If this happens, the next key support level to watch will be at $0.00000054, which is the neckline of this pattern.