The Subscription Video On Demand (SVOD) market is a highly competitive one, with different players jostling for market share. Currently, the two most prominent players in the SVOD market are Netflix and Amazon Prime Video.
However, several other SVOD providers, such as Hulu, Disney+, and Apple TV+, serve significant populations globally.
Disney+ is quickly becoming a significant player in the streaming wars, showing no signs of slowing down. According to a StockApps data presentation, the platform has grown its market share from 136 million subscribers to 152 million in the last year. That's an increase of 122% over that period.
"Disney+ has been on a roll lately, thanks to its expansion into new markets," says StockApps finance lead Edith Reads. She adds, "The streaming service has added more than 14 million subscribers in Q2 2022, up from 7.9M from the first quarter. This growth is largely due to Disney+'s launch in 42 new country markets and 11 regions spanning Europe, Asia, and Africa."
Most of Disney+ growth was outside N. America
Disney+ has seen incredible success since its launch in late 2019, and the company continues expanding its global reach. It is now available in 101 countries and seeks to expand its foothold further. And while it did add 100,000 new subscribers in the US and Canada in Q2 2022, most of its gains were outside of North America.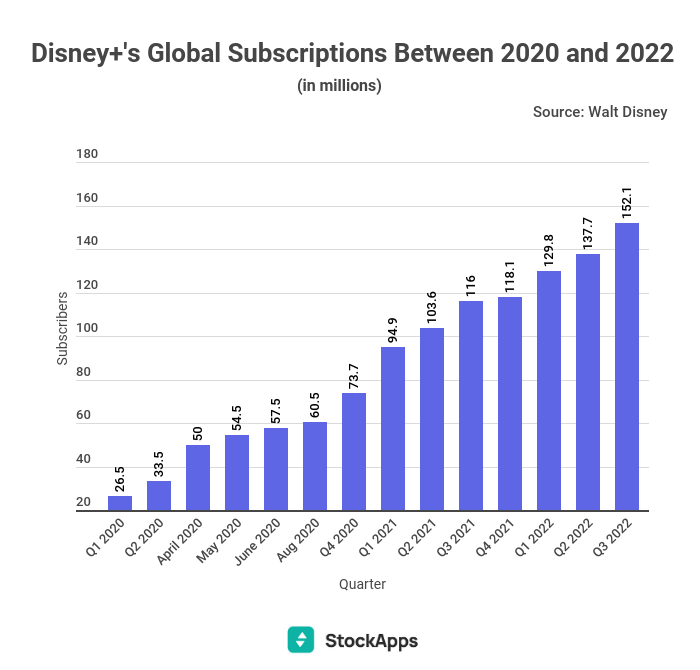 That's likely because it's still relatively new in many international markets, and as more people learn about the service, they're signing up in droves. In Q2 2022, Disney+ added 6 million international subscribers, bringing its total to 49.2 million. Disney+ Hotstar, which is available in India and Southeast Asia, also picked up 8.3 million subscribers in the quarter, for a total of 58.4 million.
With such impressive growth, it's clear that Disney+ is poised to take on the streaming world. Its massive library of content and a growing roster of original programming make it a strong contender for the top spot in the SVOD sector. But first, it'll have to depose the market leader Netflix from its perch.
Challenging Netflix's dominance
Disney+'s growth is coming at a time when Netflix is shedding subscribers. The market leader now has 220.67M subscribers, a decline of 1.2M from the 221.64M it had at the first quarter's end. Though the drop appears small, it is significant considering how quickly the former is gaining ground.
Netflix's saving grace is that it lost 970,000 subscribers during the second quarter. That was better than the 2 million loss it projected for the quarter. In Q1, the platform had lost 200 thousand subscribers. That said, the streamer is confident it'll add a million subscribers in Q3.
These losses have forced Netflix to reevaluate its business model and content strategy. In the wake of its eroding subscriber base, the giant streamer has moved to overhaul its business. For starters, it has moved to make its operations learner by laying off some 300 staff.
Again, it has rethought its film strategy by focusing on fewer but better projects rather than low-budget fare. Additionally, it is fast-tracking its adoption of an ad-supported subscription tier. The firm that's partnering with Microsoft in that venture says the service will go live in early 2023.