The PrimeXBT mobile app for Android and iOS devices lets traders keep their finger on the pulse of global markets at all times. In addition, traders get complete control over their portfolio and positions, with long and short positions on more than 100 different trading instruments.
Here are all the ways the PrimeXBT mobile app is a trader's perfect companion.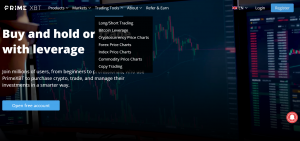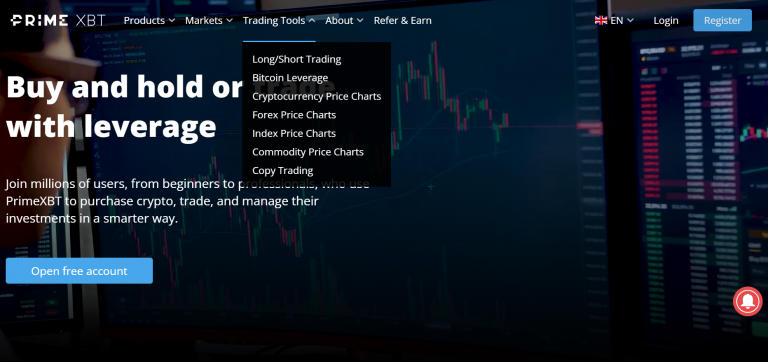 Buy Crypto To Top Up Margin Accounts
We have all been there at one point or another. You've made a miscalculation or fat-fingered the keyboard and put an extra zero in an order, leading to an unexpected loss or a stop loss not triggering. You find yourself suddenly needing to add account margin, yet you're away from your Ledger or another cold storage wallet.
With the PrimeXBT mobile app, users can buy crypto to top up their margin trading accounts or hold for the long haul in just a few clicks. The app lets users buy Bitcoin (BTC), Ethereum (ETH), and top stablecoin Tether (USDT) and USD Coin (USDC), which can be used to fund margin trading accounts or Covesting copy trading accounts.
Copy Trade Top Traders With Covesting
Since the full suite of PrimeXBT trading tools is available through the mobile app, this also means that users can access the exclusive Covesting global leaderboards and follow top traders who rank highly via return on investment. The higher the ROI, the better the rank and the more attractive they become to followers.
Followers get to bypass the hard work involved in technical analysis and managing positions while still taking advantage of the opportunities provided by the more than 100 different trading instruments and the recent volatility across the globe. Once following, the system will automatically copy all trades booking profits when the strategy manager does. The leaderboards gives followers all the data they need to make decisions on who to follow.
Keep Tabs On Your Portfolio And Positions
The benefit of having the PrimeXBT app at your fingertips at any time is centered around having the ability to manage one's portfolio while on the go. With as volatile as today's most popular markets have been in recent months, wasting valuable time could lead to losses or missing out on an opportunity. Be ready at any given moment to go short or long one of 100 different assets.
The professional tools and access to forex, crypto, stock indices, and commodities under one roof ensures that traders can build a risk-averse portfolio of uncorrelated assets in just a few taps and swipes. Managing a portfolio to ensure its success is also possible while on the go.
An Intuitive Experience With Constant Improvements
The PrimeXBT app is easy to use and offers intuitive, instant on-the-go access to everything a trader could need to be successful and then some. The development team is regularly listening to feedback and adapting the app to suit constantly evolving user needs.
Recently, the platform's exchange tool was added, as well as the ability to share trades on social media through the transaction history section. A new, segregated withdrawal process was also introduced for the first time. PrimeXBT is always planning something new!
Make Deposits And Withdrawals On The Fly
You never know at which moment you may suddenly need to manage your digital assets. Using the PrimeXBT app, deposits and withdrawals are found under the Main page, which provides a bird's eye view of all available PrimeXBT accounts and their current value.
Deposits and withdrawals can be made via BTC, ETH, USDT, USDC, and COV. USDT, USDC, and COV can use either the Ethereum blockchain or BNB Smart Chain to make transactions. Recently, PrimeXBT added support for the TRON network to deposit and withdraw TRC-20 USDT and USDC.
An Award-Winning Mobile App Experience
The PrimeXBT mobile app was honored with the Forex Award for Best Crypto Trading App. The platform itself has also received several other industry awards and is popular in the trading and crypto communities.
The app connects users with all margin trading tools, Covesting, account settings, or and the 24/7 customer support chat that is always available should an issue arise. Users can also report bugs to the live support staff.
Summary: Download The PrimeXBT App ASAP
The PrimeXBT mobile app for Android and iOS devices is available as a free download in the Google Play Store or Apple App Store. Like a trader's best friend, it is there whenever you need it and can save you in a pinch.
Download the app today, and get access to global markets and all your positions and followings at the tip of your fingers from anywhere in the world.