The fintech world is busy, with many companies vying for attention. The most popular exchanges offer the greatest liquidity, meaning they have the most active users trading on the platform. Kraken is one of these exchanges and has consistently been ranked as one of the top 10 exchanges by volume. In addition to its high liquidity, the US-based cryptocurrency trading platform also boasts a large userbase.
According to StockApps.com, Kraken has the highest number of Twitter followers in the fintech world. As of August 17th, 2022, Kraken had 1.4 million followers on the social media platform. This put the exchange ahead of its closest competitors, Robinhood and Current.
Kraken has been consistently growing its Twitter following since its inception in 2013. The company has used Twitter to provide updates on new features, product launches, and partnerships. In recent months, Kraken has been especially active in promoting its latest products and services, such as staking and margin trading.
Kraken's growing popularity
According to StockApps financial analyst Edith Reads, "Kraken's large Twitter following is a testament to its popularity and the trust that users have in the platform. With its industry-leading liquidity and robust feature set, Kraken will likely continue growing its userbase in the months and years to come.
Kraken has nearly 300,000 more followers than Robinhood, the second most followed fintech company on Twitter. Current, a U.S.-based mobile banking platform, is in third place with 552.4K followers. At the same time, Gemini is fourth with 439.4K followers. Financial infrastructure platform, Stripe rounds out the top 5 with 212.2K followers.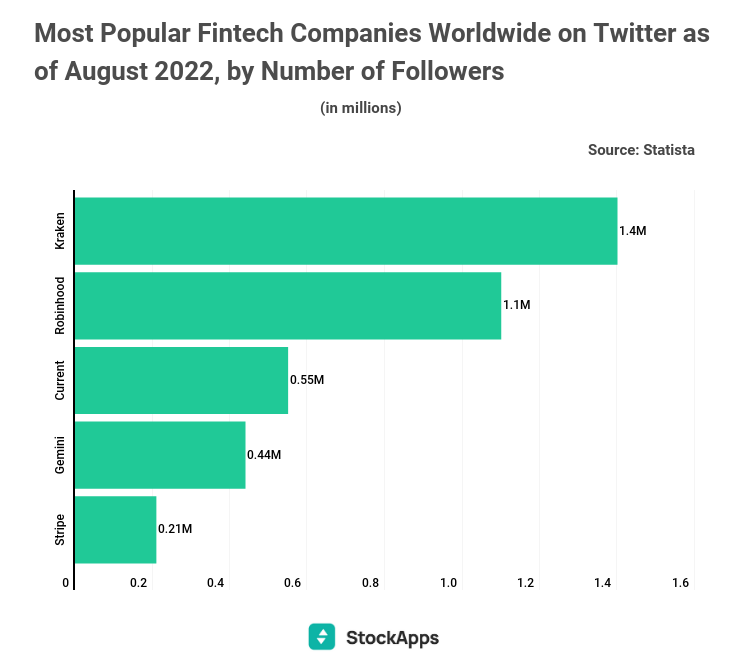 Fintech industry evolving
While it is undoubtedly impressive that Kraken has amassed such a large following on Twitter, it is worth noting that most of its users are based in the United States. In fact, over 60% of its userbase is from the US.
This is not surprising given that the exchange is one of the most popular in the country. However, it does mean that its international reach is somewhat limited.
The Fintech industry is constantly evolving and expanding. Companies are always looking for new ways to reach and engage with their target audiences.
Social media platforms like Twitter provide a great way for companies to connect with their users and promote their products and services. With its large userbase and high level of engagement, Kraken is well-positioned to continue growing its presence on Twitter and other social media platforms.