Near Protocol price moved sideways ahead of what is expected to be an important month for the ecosystem. The token was trading at $4.15 on Monday, which was about 32% below the highest level in August of this year.
It has a market cap of more than $3.2 billion, making it the 26th biggest cryptocurrency in the world.
Near Protocol is one of the fastest-growing blockchain projects in the world. The developers have raised hundreds of millions of dollars from venture capitalists who hope it will become a leading player in the Web3 industry.
Read more on Cryptocurrencies and investments:
One of the biggest Bitcoin mining pools in the world, confesses to liquidity issues, but assures users their funds are safe
Hollywood actor has around $185,000 stolen at NFT auction raised for charity
Near Protocol price bounces back by over 12% from the lowest level giving it a market cap of $3.3bn
Cryptocurrencies have lost $1.9 trillion in value resulting in thousands of workers being laid off
Near Protocol will have several important events this week that could have an impact on its price. First, the developers will have its NEARCON Conference in Lisbon. This is a major event in which its creators will have a chance to share their vision and illustrate their key milestones.
The official media sponsor for the event will be Coindesk. Other ecosystem sponsors for the event, which will happen on September 14, will be Aurora, BitGo, Circle, Mubadala Capital, and Mintbase among others.
Some of the notable speakers in the event will be Illia Polosukhin and Marieke Flament of the Near Foundation. Other speakers will be from organizations like Cardano, Brave Software, Mina Foundation, and Protocol Labs among others.
The other potential catalyst for the Near Protocol price will be the upcoming launch of Sweatcoin's cryptocurrency. Sweatcoin has grown to become the fastest-growing fitness brands in the world.
It is a move-to-earn platform that rewards people for doing basic activities like walking and running.
A few months ago, Sweatcoin selected Near Protocol to be its blockchain platform for its SWEAT coin. This coin will be launched on September 12. Therefore, this spotlight could lead to more upward moves for NEAR.
Near Protocol price forecast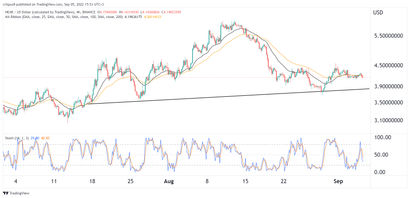 The four-hour chart shows that the NEAR price has been in a consolidation phase in the past few days. This price is nonetheless substantially lower than August's high of $6.11. As a result, this price is along the 25-day and 50-day moving averages while the Stochastic Oscillator has moved below the neutral point at 50.
Most importantly, the Near Protocol coin has formed a head and shoulders (H&S) pattern. In price action analysis, this pattern is usually a bearish sign.
Therefore, there is a likelihood that the Near Protocol price will have a bearish breakout despite the upcoming events.