Since the advent of blockchain technology, there has been a rush of new financial opportunities available to savvy investors.
Amongst the most successful of these has been Bitcoin, which has gone from an obscure cryptocurrency to a possible contender for the global currency title.
That growth has been fuelled by the increasing adoption of the crypto asset as more and more people get acquainted with digital currencies.
The success of Bitcoin is mainly due to the blockchain, the distributed ledger technology that underpins it. Blockchain technologies offer a secure, efficient way to facilitate financial transactions without needing a third party such as a bank or financial institution.
Read more on Blockchain and Crypto investments:
US 'Kidnaps' Russian money launderer in Netherlands who laundered at least $70m in Crypto
FTX's revenue grew from $90 million to $1.2 billion in just one year
Hackers stole $625 million in the Ronin bridge exploit, which affected Sky Mavis' validator nodes
The world is warming up to a cashless society in which NFTs may play a pivotal role in payments
This has made Bitcoin attractive to individual and institutional investors looking for an alternative to the fiat currencies market.
When will the world accept Bitcoin payments?
When it comes to Bitcoin, the million-dollar question on everyone's mind is when will the crypto asset become an official currency? Bankless Times has researched the matter and predicted it by comparing the current rate of global Bitcoin adoption to that of other disruptive technologies. These include electric power, the internet, cellular phone, and the motor car.
And while it's impossible to say exactly when Bitcoin will reach global adoption, the current growth rate suggests that it could happen within the next 23 years. That's to say that Bitcoin could become an official medium of exchange by 2045. However, Bankless Times says that this is only a prediction and that the actual time frame could be shorter or longer depending on various factors.
Bitcoin is following the path of other disruptive technologies
"Bitcoin is a disruptive technology that is following an S-curve adoption pattern," holds Bankless Times' CEO Jonathan Merry.
"Our research suggests that the world will have adopted Bitcoin payments by 2045, based on data from historical adoption curves. These point to Bitcoin global adoption reaching 65% by that year."
So far, Bitcoin adoption has followed the pattern of other disruptive technologies, which points to exponential growth in the next two decades. Merry insists that the growing number of crypto investors will push up the global Bitcoin demand accelerating its global adoption.
10% of the global population will have adopted BTC by 2030
Bankless Times bases its prediction on a recent Blockware Solutions report on Bitcoin adoption. The latter had made projections on the crypto asset's growth based on the average and weighted average of the historical tech adoption curves. Likewise, Blockware's survey considered Bitcoin's adoption growth rate.
The firm was bullish that BTC adoption would reach 10% of the global population by 2030. It based its conclusions on two data sets; Bitcoin's Cumulative Sum of Net Entities Growth and its CAGR of approximately 60%.
Global Bitcoin adoption will reach saturation quicker
Blockware suggests that Bitcoin adoption will reach saturation quicker than any other disruptive technology. That's due to the monetary incentive that will accompany Bitcoin adoption and the increased internet penetration.
It is generally accepted that the internet's informational capacity can further drive digital assets uptake.
BTC has the fastest rate of adoption
Blockware's conclusions tally with other reputable players analyzing the crypto market. One of them is Raoul Pal, who has made a comparative analysis of BTC vs. Internet adoption rates.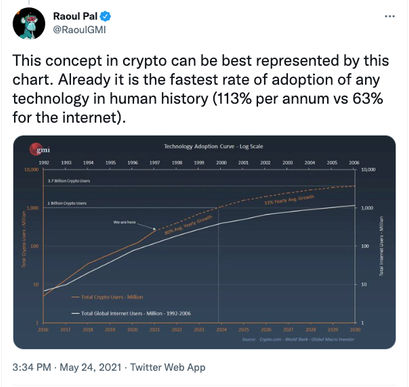 Pal concludes that BTC has the fastest adoption rate of any technology in human history. He opines that BTC's 113% annual growth rate has already outpaced the internet's 63% growth.
The network effect
Further, Blockware Solutions affirms that Bitcoin will benefit from the "network effect." In other words, the more people adopt Bitcoin, the faster it will go mainstream. That could be due to several factors that will lead to more and more people embracing the crypto in the future.
These include the increasing global adoption of this asset class. Moreover, there's a growing acceptance of cryptocurrencies by major financial institutions. Again an increasing number of businesses are beginning to adopt cryptocurrency transactions.
Popular Cryptocurrency in the US
This follows on from a showing of popular cryptocurrency in the US – where around 23 million have invested in Bitcoin.
Read More Crypto Adoption Stats
Not investment advice
Blockware was, however, quick to caution that its model was only conceptual. Its predictions couldn't, therefore, be taken as investment advice or a tool for short-term trading. The firm has also undertaken to refine its model for accuracy.
Remember that with any investment, including cryptocurrency, the value of your input could decrease. Never invest more than you can afford to lose.
The report's reviewers included some of the top minds in the industry, including Ark Invest, M31 Capital, Arcane Assets, and AMDAX Asset Management. These firms are known for their rigorous analysis and due diligence. One would expect that they brought their expertise to bear on the report enhancing its credibility.
The Cryptocurrency market is exploding
According to a Triple-A data presentation, Cryptocurrency adoption has exploded in recent years, with an estimated 300 million people using crypto in 2021. That represents an average adoption rate of 3.9%.
Crypto adoption is driven by several factors, including the increasing use of digital assets for payments, the rise of decentralized finance (DeFi) services, and the growing awareness of crypto assets as a viable investment option.
A recent report from Chainalysis has revealed some interesting trends in cryptocurrency adoption. Overall, there was an 881% uptick in the adoption of BTC and other cryptocurrencies between July 2020 and June 2021, with Vietnam leading the way in adoption. In total, 154 countries saw an increase in cryptocurrency users during this period.
Another report by the Gemini cryptocurrency exchange corroborates findings from Chainalysis. The April 2022 report shows India, Brazil, and Hong Kong are leading the way in cryptocurrency adoption.