Ethereum price moved sideways on Thursday as investors ahead of a relatively busy month. The token was trading at $1,565 on Thursday afternoon, which was about 23% below the highest point in August of this year.
ETH price had a mixed performance in August as investors focused on the upcoming Ethereum merge. At the time, the coin's price jumped to a multi-month high of $2,032.
This recovery helped to boost the prices of other cryptocurrency prices, which pushed their market cap to over $1.3 billion.
Read more on Cryptocurrencies and investments:
Ethereum's use in illegal activities rises sharply to stand at 0.33% overtaking BTC
The volume of Ethereum related tweets is down 65% since the beginning of 2022
Kyle Roche withdraws from crypto class action suits after alleged 'gangster style' attacks on firms following 'leaked videos'
Ruja Ignatova is on the FBI's Most Wanted list for laundering $105 million of the global OneCoin scam
September will be an important month for Ethereum since the merge is expected to happen. For starters, this merge will combine the current proof-of-work (PoW) with the Beacon Chain.
The new version of Ethereum will have several benefits. First, as a proof-of-stake platform, ETH holders will be able to stake their coins and win rewards. According to StakingRewards, ETH worth over $20 billion has already been staked.
Second, the PoS version will be environmentally-friendly since it will not require any mining. Instead, new blocks will be confirmed using validators.
Third, Ethereum will become significantly faster than the existing version. The speed will accelerate later on after the developers introduce sharding technology.
Ethereum merge is expected to happen in about two weeks although the exact date can still change. According to Tim Beiko, a leading Ethereum developer, the first part of the merge will happen on September 6 while the full transition happen on September 15.
The merge that will happen on September 6 will be known as Beatrix. Analysts believe that Ethereum price will bounce back towards and after the merge as demand rises. However, there is also a possibility that the price will pull back since this merge has already been priced in.
Ethereum price prediction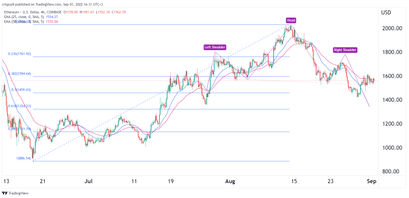 The four-hour chart shows that the ETH price surged to a high of $2,030 in August ahead of the merge. It then pulled back sharply in the past few days as concerns about the Federal Reserve's monetary policy continued.
The chart shows that the coin has formed a head and shoulders pattern. In price action analysis, this pattern is usually a bearish sign. The coin is consolidating along the 25-day and 50-day moving averages and is slightly below the 38.2% Fibonacci Retracement level.
Therefore, Ethereum price will likely continue falling as sellers target the next key support level at $1,400. A break below that support will see it move to $1,000.