Polygon MATIC price has been in a strong bearish trend in the past few days as the bullish momentum fades. The coin dropped to a low of $0.7700, which was the lowest level on 27 June.
It has crashed by about 27% from its highest level this year. Its market cap has moved to about $5.9 billion.
Why is Polygon slipping?
Polygon is a leading blockchain project that seeks to bring the world to Ethereum's network. It is a layer-2 platform that aims to accelerate the performance of projects created in Ethereum's platform.
It achieves this through several approaches. It is a sidechain that processes transactions out of Ethereum's platform. This is important since Ethereum is the most popular smart contract platform in the world.
Read more on Blockchain:
At the same time, it is one of the most inefficient one due to its significantly slow speed, high transaction costs, and carbon emmissions.
Polygon has unveiled several projects in a bid to boost its ecosystem. For example, it launched a zero-knowledge (zk rollup) product that uses the speed of Plonky2 to enable more scalability and decentralization.
These zk proofs are generated in 170 milliseconds on a commodity laptop.
Polygon has seen remarkable adoption in the past few months even as competition with the likes of Optimism, Arbitrum, and Immutable X. According to its website, almost 20,000 projects have used Polygon to scale their applications.
Learn more about how to buy Polygon.
These include popular projects like AAVE, Uniswap, and Reef Finance among others. At the same time, many large companies like Meta Platforms, Disney, and Stripe are using Polygon to scale their decentralized projects.
Polygon MATIC price staged a strong comeback in June in line with the performance of other cryptocurrencies. Recently, this rally has faded as investors anticipate that the Federal Reserve will maintain its hawkish tone in the coming months.
MATIC price prediction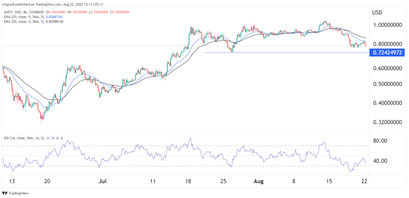 The four-hour chart shows that the Polygon price has been in a strong bearish trend in the past few weeks. This decline has coincided with the performance of other cryptocurrencies. As a result, it has moved below the 25-day and 50-day moving averages. The Relative Strength Index (RSI) has moved slightly below the neutral point at 50.
MATIC is also slightly above the important support level at $0.7242, which was the lowest level on June 26. Therefore, the coin will likely continue falling as sellers target that support. A move below the level will signal that bears have prevailed and will open the possibility for Polygon slipping to $0.5