Polygon MATIC plunged to the lowest level in more than a week as cryptocurrencies crashed. The coin crashed to a low of $0.8, which was lower than the August high of $1.
Other cryptocurrencies like Bitcoin, Ethereum, Ravencoin, Gnosis, and Lido also plunged by more than 10%.
Polygon is one of the biggest blockchain projects in the world. It is a layer-2 network that developers use to supercharge their Ethereum decentralized applications (dApps).
Read more on Cryptocurrencies and investments:
Polygon solves a key challenge that has existed for years. This challenge is that Ethereum has some of the slowest speeds in the industry since it is a second-generation network. In addition, Polygon helps to reduce the cost of transactions of Ethereum apps.
Polygon's MATIC has dropped after Ethereum Merge for two main reasons. First, some investors believe that developers will not have a use for layer-2 projects now that Ethereum has become a layer-2 network.
This view is wrong. For one, The Merge simply moved Ethereum from a proof-of-work (PoW) to a proof-of-stake (PoS) network. It did not do anything to boost its capacity, which means that its transaction speeds and costs will still be elevated.
Faster speeds and lower costs will only happen in the next stage of the upgrades. Ethereum's developers will implement a technology known as sharding, which will reduce the size of blocks into smaller units known as shards which will make it much faster.
Still, analysts believe that layer-2 networks like will be necessary.
Second, Polygon MATIC price dropped because of the close correlation that exists among cryptocurrencies. It fell because of the sharp decline of both digital coins and stocks.
This decline is mostly because of a situation known as buying the rumour, and selling the fact. Historically, assets do well ahead of a key event and then retreat when it happens.
MATIC price prediction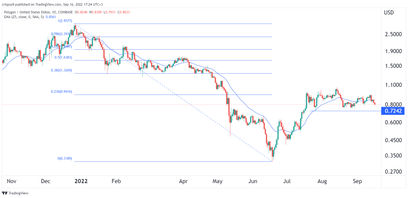 The daily chart shows that MATIC price made a strong recovery from its lowest level this year. This recovery saw it rise from a low of $0.3233 to a high of $1. Now, the rally has faded and the coin has managed to move below the 25-day moving average and the 23.6% Fibonacci Retracement level.
The coin has also formed a small head and shoulders pattern. Therefore, there is a likelihood that the coin will have a bearish breakout in the coming days. This view will be confirmed if it moves below the important support level at $0.7242.