Bitcoin Cash price tilted upwards on Wednesday as investors waited for the upcoming interest rate decision by the Federal Reserve.
BCH rose to $114.50, which was slightly higher than this week's low of $106. Its market cap has moved to $2.1 billion, making it the 30th biggest cryptocurrency in the world.
Read more on Cryptocurrencies and investments:
The Federal Reserve is the most important institution in the financial industry. Besides, it is the only organization that has the mandate to print US dollars and raise interest rates.
Therefore, its actions are closely followed by investors worldwide. When the Fed embraces an easy-money monetary policy, investors flock to riskier assets like stocks and cryptocurrencies. On the other hand, when the bank decides to tighten, people flee these assets as they embrace risk-off sentiment.
This explains why Bitcoin Cash and other cryptocurrencies surged during the pandemic and why they have crashed in 2022.
Therefore, the next key catalyst for Bitcoin Cash price will be the upcoming interest rate decision by the Federal Reserve. On Wednesday, analysts expect that the bank will continue with its tightening policy in a bid to fight the soaring inflation.
Learn more about how to buy Bitcoin Cash.
Precisely, analysts expect that the Fed will deliver another jumbo rate hike of 0.75% for the third month straight. It will also commit to continuing with its quantitative tightening policy as it continues reducing its balance sheet.
Bitcoin Cash price tilted upwards towards the meeting. Other assets like BTC and American stocks also continued rising while bond yields slipped.
The Dow Jones index rose by 110 points while the S&P 500 and Nasdaq 100 rose by 0.40%. At the same time, the 10-year bond yield dropped to 3.55% while the 2-year rose to almost 4%.
The main catalyst for the BCH price will be the accompanying statement by the Fed and its guidance on what it will do later this year.
Bitcoin Cash price prediction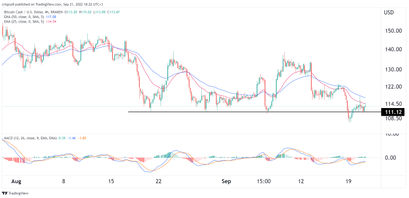 The four-hour chart shows that the BCH price has bounced back in the past few days. It has managed to move slightly above the important resistance level at $111.12, which was the lowest level in July and September. It remains slightly below the 25-day and 50-day moving averages. The MACD has also moved below the neutral point.
Therefore, there is a likelihood that Bitcoin Cash will continue falling as sellers attempt to move below the important support level at $100.