EOS price has done well in the past few weeks as investors take a contrarian take on the fallen angel. The coin rose to a high of $1.6633 during the weekend, which was the highest level since May 11 of this year. It has rallied by over 78% above the lowest point this year, bringing its total market cap to over $1.5 billion.
Why is EOS rising?
EOS is a well-known blockchain project that is managed by the EOS Foundation, which emerged from Block.one's Initial Coin Offering (ICO).
It is a network that seeks to become a viable alternative to other smart contract platforms like Ethereum, Cardano, and Solana.
Read more on Blockchain and investments:
While EOS was a well-funded project, its performance has lagged that of other newer blockchain projects. This is evidenced by the number of applications created in its network as shown by DappRadar and DeFi Llama.
EOS price has recovered recently as the developers shift to turnaround the platform. This month, they unveiled a major upgrade and a hard fork that they believe will become a leading alternative to the ecosystem.
It has also risen after the launch of Antelope, which is an open framework for building next-generation Web3 products and services. It is a community-run codebase that aims to become a leading platform for building apps. The platform is backed by EOS Network, Telos, WAX, and UX Network.
EOS price also rallied after the launch of the EOS System contracts version 2 and Yield+. Yield+ is designed to build economic activity on EOS by incentivizing dApps that increase TVL and generate yield. The registration started on August 14 while the rewards for TVL will start on Sunday.
EOS price prediction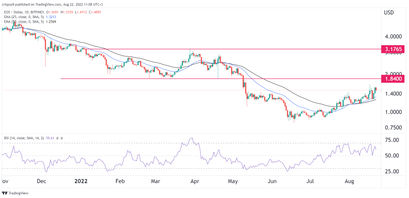 The Relative Strength Index (RSI) has moved above the neutral point. Therefore, the coin will likely continue rising as bulls target the next key resistance level at $1.8400, which was the lowest level on March 7. A move below the support level at $1.30 will invalidate the bullish view.