Fintechs are enjoying mass adoption, and one of them, Robinhood, seems to be a fan favorite. That has come out in a StockApps analysis of the most popular fintech firms in 2021. The site concludes that Robinhood was the most sought platform after recording 28 million searches.
Klarna, a startup that provides e-commerce payment services, came in second with 27.56 million searches. Furthermore, Kraken, a bitcoin trading platform, took third place with 24 million searches.
Commenting on the findings, StockApps's Edith Reads said, "Robinhood is dominating fintech searches because it is appealing to users with its commission-free services." In addition, Edith credited the app-based brokerage platform as being "Convenient, more appealing and easy to use." Perhaps, that is the reason behind the high number of searches.
Hong Kong and Singapore lead in fintech and fintech-related Google searches
StockApps' analysis showed Hong Kong is leading in fintech-related Google search queries. Singapore took the second position for similar keywords. Yet Singapore was the leading financial tech hub in Southeast Asia per a 2020 report by Oliver Wyman and the Singapore Fintech Association.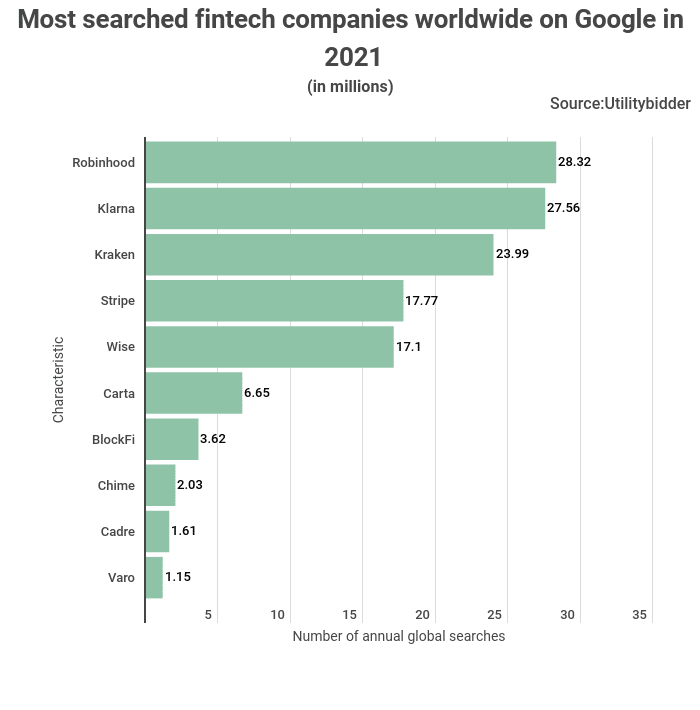 The country is home to 40% of the region's fintech companies. Besides, it has more than one hundred incubators, 40 innovation labs, and 150 venture capitalist investors. These factors make it an attractive destination for startups seeking opportunities in the fintech space.
Funding is critical to the development of the fintech sector. And according to Boston Consulting Group (BCG), Singaporean fintech companies raised a total of S$656 million in funding during the first quarter of 2021. This represents a 355% increase compared to the funding totals raised during the first quarter of 2020.
Regulation framework on Fintechs
The regulatory framework for Fintechs has changed in tandem with the industry's rapid expansion in recent years. Clearer rules of engagement have led to a rise in institutional adoption and consolidation of the industry. It has defined regulations governing crypto-asset trading and outlined the relevant procedures in case of breaches. These include initiating court action where necessary.
Although the sector's prospects are positive, FinTechs should be aware of rising regulatory responsibilities, fines, and legal actions. As authorities take on a more active role, market participants are raising concerns about the lack of legal clarity. Legal uncertainty has increased as a result of heightened enforcement and monitoring by the government. Thus regulators must work closely with the industry to foster innovation while safeguarding users.
As Alison Manzer of Cassels Brock & Blackwell, LLP explains, FinTech is a way to stay in line with current regulations in the financial business. Additionally, she sees FinTech as a way of controlling activities not presently regulated by the current framework. For example, anti-money laundering (AML) legislation may aid the industry by forcing the usage of smart alternatives to regulatory requirements. As the FinTech business expands, it must develop new solutions to suit them.
It is possible to lessen the regulatory load on FinTechs by defining a business model rather than introducing financial services to the policy system. She claims those previously uncontrolled activities do not always necessitate regulation.