Many nations increasingly see mobile internet as a critical driver of economic growth. They don't only look at it as a way to increase productivity and enable new business models.
They also see it as a means to bridge the digital divide and spur economic development. Consequently, many like Bahrain are ramping up their efforts to improve mobile connectivity.
According to a StockApps data analysis, Bahrain is leading the world in mobile internet user penetration. The site has presented data showing that Bahrain has a 97.87% mobile internet penetration rate, which is the largest globally. This means that almost all Bahraini citizens use their phones to access the internet.
"The Bahraini government has been investing heavily in infrastructure and technology, which has made it easier for people to get online," says StockApps' financial expert Edith Reads. She adds, "The country has an expansive National Broadband Network enabling the provision of affordable high-speed broadband internet services to people and business alike."
Countries leading in mobile internet penetration
The United Arab Emirates (UAE) has the world's second highest mobile internet penetration rate.  95.86% of the UAE's population uses this resource for their online activity. Besides the young, tech-savvy population, the nation has a robust infrastructure for internet connectivity.
Similarly, Kuwait is a small country with a big appetite for mobile internet. It ranks third globally in terms of mobile internet usage. Like the other two, it has an extensive mobile internet infrastructure courtesy of the government's considerable investment. Kuwaitis also enjoy some of the fastest mobile internet speeds.
G7 nations are lagging in adoption
The G7 nations are lagging in their internet penetration rates. Of the top ten countries in the world, only three are G7 members. With a 93.59% penetration rate, Canada was the best place in the sixth position. Japan followed in with a penetration of 92.68%. Finally, the UK rounded the top ten with a penetration rate of 92.26%.
This is surprising given the level of advancement of these countries. One possible explanation is that mobile internet access costs are still relatively high in these countries. Whatever the reason, it's clear that the G7 nations have some work to do regarding mobile internet penetration.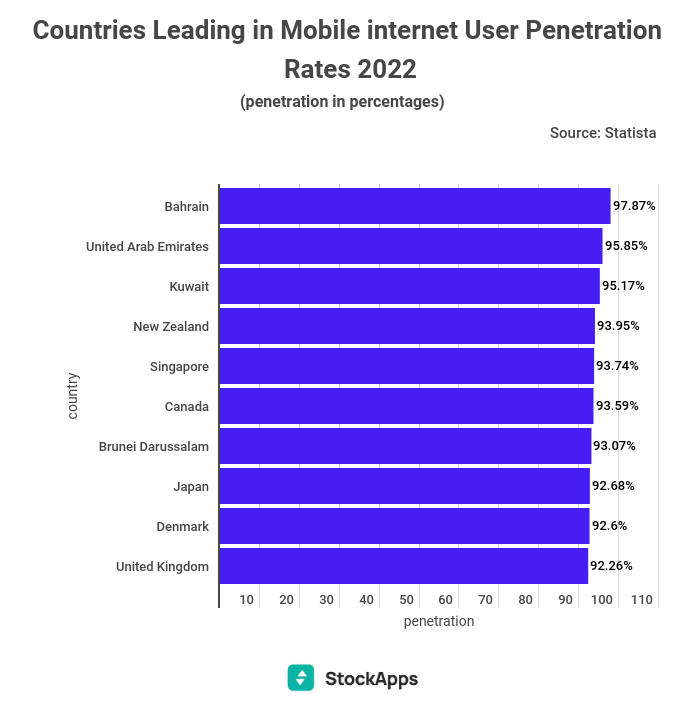 The US ranks 44th in mobile internet penetration
The U.S ranks surprisingly low in terms of mobile internet penetration. At 84.37%, it ranks a disappointing 44th out of all the countries in the world. This low ranking is partly due to the US's high cost of mobile data.
According to a recent study, the average price of mobile data in the US is nearly twice as high as the OECD average. Whereas Americans pay an average of $61.07 for monthly broadband access, the average for the OECD countries is $37.78.
In addition, the US has large areas of rural territory where mobile coverage is spotty at best. As more and more people rely on mobile devices for work and leisure, the US will need to find ways to improve its mobile internet infrastructure. Otherwise, it risks being left behind in the global digital economy.