Bitcoin price continued consolidating even as its hash rate surged to its all-time high and the fear and greed index retreated. The BTC/USD price was trading at 20,000 on Thursday, where it has been at in the past few weeks. Similarly, the BTC/GBP and BTC/EUR are consolidating at 17,878 and 20,365, respectively.
Fear and greed index falls
Bitcoin price has stalled in the past few weeks as investors wait for the next catalyst. The current price is about 10% above the lowest level this year. Most importantly, Bitcoin has diverged from other assets like gold and stocks.
In September, the Dow Jones and the Dow Jones crashed by more than 10%, in one of the worst months since the pandemic started. At the same time, Bitcoin has stalled this month even as stocks have made a strong recovery this month.
Therefore, it is clear that the close correlation that existed between Bitcoin and stocks has ended. At the same time, Bitcoin has also reacted mildly to the performance of the fear and greed index.
Learn more about how to buy Bitcoin.
This is an important index that looks at several data points like the VIX index, put and call ratio, and safe haven demand. In the past, Bitcoin used to drop when the fear and greed index was falling. It is now trading at 30, meaning that it is about to move to the extreme fear zone.
Another important observation is that, as shown below, Bitcoin's put-to-call ratio has been in a downward trend since July. A drop of this ratio is usually a bullish sign for BTC since it signals that investors are positioned in the upside.

Meanwhile, data shows that Bitcoin's hash rate and mining difficulty have continued to rise in the past few months. All these factors could be bullish for Bitcoin prices.
Bitcoin price prediction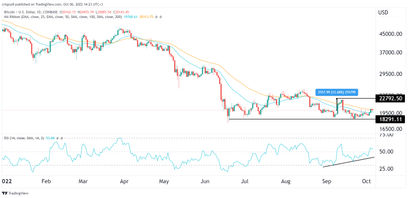 The daily chart shows that the BTC price has been in a consolidation phase in the past few weeks. During this period, it has struggled moving below the important support level at $18,290. At the same time, the coin is hovering at the 25-day and 50-day moving averages while the Relative Strength Index (RSI) has formed a bullish divergence pattern.
Therefore, while it is still too early to tell, there is a likelihood that Bitcoin price will continue rising. If this happens, the next ky level to watch will be at $22,792, which was the highest level on September 13.