Gold and Bitcoin prices have diverged in 2022. Bitcoin price has collapsed by more than 60% year-to-date while gold is close to where it started the year at. In the past five years, gold has risen by about 43% while BTC has crashed by about 11%. So, which is a better buy between gold vs Bitcoin?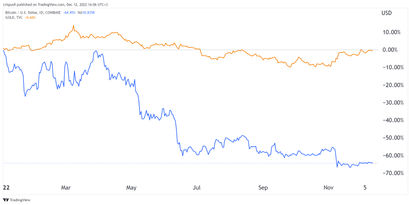 Gold vs Bitcoin
Gold price has done modestly well in 2022. After falling to a low of $1,620 in September, gold price has recovered to about $1,800. Still, it remains 12.6% below the highest level this year. To a large extent, gold has tracked the performance of American stocks.
Bitcoin price, on the other hand, has been in a freefall, as it has erased most of its Covid gains. It has plunged from its all-time high of $67,000 to a low of $15,000.
Bitcoin is dealing with a collapse of confidence in cryptocurrencies following several catastrophic events in the industry. For example, Terra's ecosystem collapsed in May, leading to over $40 billion in losses. Three Arrows Capital, a hedge fund closed shop.
The most recent confidence killer is the collapse of FTX and Alameda Research. As a result, many investors have either sold their BTC or moved them to private wallets in record numbers.
Why Bitcoin is still better than gold
Bitcoin price collapse has invalidated one of the top thesis about the coin. For a long time, Bitcoin proponents have argued that Bitcoin is a good inflation hedge. That has been untrue since BTC collapsed in a period when global inflation soared to a multi-decade high.
Still, there are several reasons why Bitcoin seems to be a better investment than gold. First, the recent panic about FTX is actually a good thing for Bitcoin and other cryptocurrencies. That's because Sam Bankman-Fried was actually running a scam.
In his recent interviews, he has said that FTX comingled funds with Alameda Research, which is illegal. As such, the earlier FTX collapsed the better it is for the crypto ecosystem.
Find out how to buy Bitcoin.
Crypto regulations
Further, like I wrote on Friday, the collapse of FTX will likely lead to sensible regulations in the crypto industry. I believe that crypto companies could be regulated the same way in which Wall Street banks are regulated. This could include regular stress tests and better disclosures.
Finally, Bitcoin price has proven that it can emerge from major dips. In the past decade, BTC has had several 60%+ drawdowns and it always recovers. It has also proven that it can go parabolic in right conditions.
Gold, on the other hand, tends to have minimal gains. Between 1999 and now, it has risen by less than 600%. Bitcoin, on the other hand, has risen by over 7,620% from its lowest level in 2015.
Additionally, such crashes happen all the time when there is a major shift. For example, most tech stocks collapsed in 2000 as the dot com bubble burst. Yet many quality companies like Amazon and Alphabet thrived.