The Near Protocol price has crawled back in the past few days as investors buy the coins dip. The token rose to a high of $4.41, which was the highest point since August 19.
It has jumped by over 12% from the lowest level this year, giving it a market cap of $3.3 billion.
Near Protocol is a leading blockchain project that seeks to provide developers with a better and more reliable platform for building applications.
Read more on Cryptocurrencies and investments:
Monthly active developers on Ethereum rockets past the 4,000 mark recording a 34% rise
Cryptocurrencies have lost $1.9 trillion in value resulting in thousands of workers being laid off
With the current adoption rate Bitcoin will be an official currency by the year 2045
Number of highest valued web3 unicorns has risen steadily to currently stand at 80
It is a proof-of-stake platform that uses a technology known as sharding to accelerate the throughput.
Near Protocol has been used to build many applications in all industries like the metaverse, non-fungible tokens (NFT), and decentralized finance (DeFi). According to its website, there are over 750 applications in its ecosystem.
Some of the top applications in its ecosystem are Ref Finance, Burrow, Meta Pool, and Linear Protocol among others. According to DeFi Llama, apps in its ecosystem have a total value locked (TVL) of over $300 million. There are much more apps in its Aurora and Octopus platforms.
Near Protocol has become incredibly popular in the past few months. There are over 18.3 million accounts on Near while the number of transactions in the past 24 hours were over 196 million.
The next major catalyst for the Near Protocol price will be the upcoming launch of Sweatcoin's SWEAT token. For starters, Sweatcoin is one of the biggest technology startups in the fitness world. It is a move-to-earn platform that rewards its users for making simple exercises like walking and running.
Sweatcoin has millions of users from around the world. Just recently, the developers raised $13 million from investors to build the app. The next stage will be to unveil the $SWEAT cryptocurrency in September. This will be an important thing since the coin will be launched on Near.
Near Protocol price prediction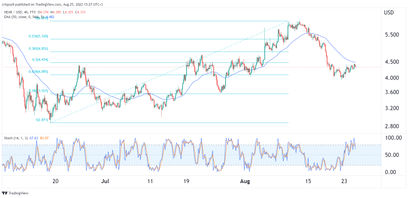 The four-hour chart shows that the Near price rose to a high of $6 earlier this month. It then shifted into a lower gear and dropped to a low of $3.97, which was below the 61.8% Fibonacci Retracement level. Recently, the coin has bounced back and is now approaching the 50% retracement point.
It remains below the 50-day moving average while the Stochastic Oscillator has moved above the overbought level. Therefore, the coin will likely resume the bearish trend as sellers target the weekly low of $3.97.