PayPal stock price has been in a strong bearish trend in the past few months as concerns about the company continued. PYPL shares were trading at $73.85, which was slightly above the year-to-date low of $71.30. It has crashed by more than 76% from the highest level in 2021, giving it a market cap of over $84 billion.
Growth and crypto concerns
PayPal share price has been in a strong sell-off this year as investors revalue the stock from growth to value. They believe that the company's growth will stall after it experienced explosive growth during the pandemic.
Recent results showed that the company's revenue grew by just 11% YoY to $6.85 billion. At its peak, PayPal was recording strong double-digit growth. Its total payment volume rose by 9% to $337 billion. It also raised its guidance for the full year, with revenue expecting to grow by 8.5% and its TPV to grow by 9.5%.
PayPal has over 400 million customers internationally. Its Venmo product has over 90 million users and 57 million monthly active users (MAU).
PayPal stock price has also collapsed because of its limited exposure to cryptocurrencies. Unlike Square, the company's crypto revenues have always been limited. In 2020, the company introduced new tools that make it possible for users to buy and store cryptocurrencies. This means it is a minor competitor to crypto brokers like Binance and Kraken.
PayPal share price has some catalysts for 2023. First, the company will likely benefit as interest rates are expected to remain high. Economists expect that the Fed will push interest rates above 5%. PayPal benefits from higher interest rates because it usually invests customer deposits.
Second, the company has a strong market share in the payment industry. It also has a strong balance sheet, with over $16.1 billion in cash and $10.7 billion in debt. The firm is expected to continue buying back its stock.
PayPal stock price forecast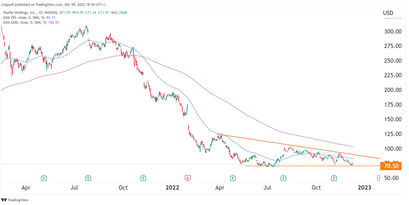 The daily chart shows that the PYPL stock price has been in a strong bearish trend in the past few months. It has found a strong support at $70.50, where it struggled to move below this year. The stock has dropped below the 50-day and 200-day moving averages.
PayPal has also formed a descending triangle pattern that is shown in orange. Therefore, from a technical standpoint, the stock has more downside to go. A drop below $70 will see the shares tumble to the next key support level at $65. It will then bounce back in 2023 as investors buy the dip.