The pain of dwindling advertiser demand hit Alphabet as the most recent player in digital advertising in Q2. Brand engagement on sites like YouTube and the Google ads network was severely affected by macroeconomic constraints. Earlier in the pandemic, YouTube was a hit, but recently it has had trouble.
According to StockApps.com, in Q2 2022, Youtube's ad income increased by 4.8% year over year to $7.34 billion. This is far less than Wall Street experts' prediction that YouTube's ad revenue would see a 7% YoY increase to $7.49 billion. In comparison, YouTube's ad revenue increased by 84% to $7 billion in Q2 2021. But, this figure was somewhat inflated due to Covid-19's early effects on sales in the first half of 2020.
Commenting on the status, StockApps' Edith Reads said. "The year over year growth is at its lowest since 2020. However, it was closer to predictions than Q1 when YouTube missed estimates by over US$600 million."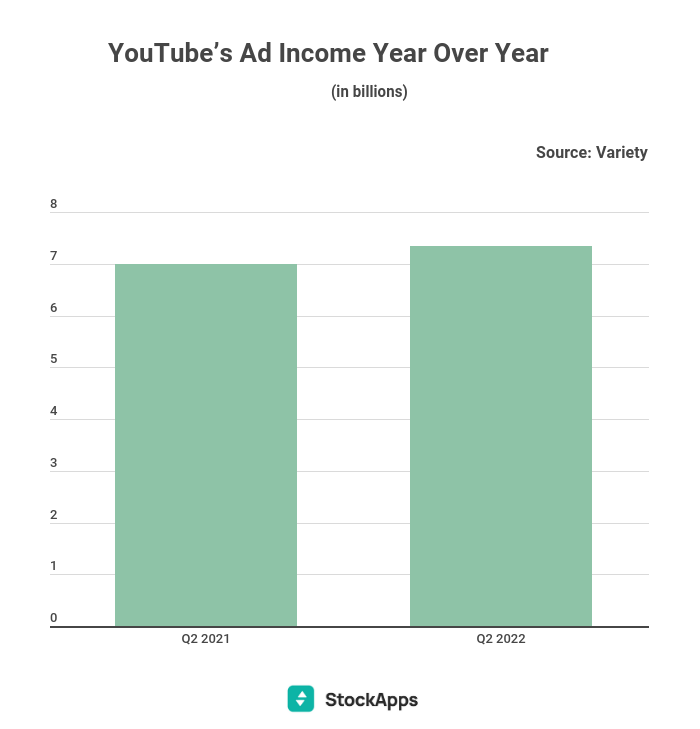 Alphabet slightly missed estimates
Overall, Alphabet slightly missed earnings estimates. The internet behemoth reported $69.69 billion in sales, up 13%, and $16.0 billion in net income. Wall Street consensus projections were for $69.99 billion in revenue and $1.30/share in earnings.
Besides macroeconomic obstacles like growing inflation, analysts predict that YouTube ad dollars are shrinking due to YouTube Shorts, the platform's surging TikTok-like short-video feature. Google boasted last month that YouTube Shorts has 1.5 billion monthly logged-in visitors. Yet, it only began testing ads for short clips recently. Another factor that affected the ad revenue is the pullback in spending by several marketers on YouTube.
Revenue excludes subscriptions from YouTube TV and YouTube premium
Alphabet's YouTube ad sales estimates do not include YouTube TV and YouTube Premium subscriptions. YouTube TV boasts 5 million members and free trial users, making it the leading internet pay-TV provider in the U.S.
Google Cloud's Q2 sales rose 36% from $4.63 billion to $6.28 billion, while its operating deficit increased to $858 million from $591 million a year ago. Google is likely to slow staff growth next year. However, they will keep hiring for critical roles, especially top engineering and technical expertise. Alphabet has 174,014 employees after adding 10,108 in Q2.
YouTube partnered with Shopify to allow producers to sell things through live streams and videos.