Stellar Lumens price has been in a strong downward trend in the past few months. XLM plunged to a low of $0.08 in November, the lowest level in more than two years. This decline means that the coin has crashed by over 66% this year and by over 88% from its all-time high.
Is XLM a good investment?
Stellar is a leading blockchain and fintech platform that seeks to improve the world of remittances. It is a platform that is used widely by some of the leading financial services companies to simplify their services.
Companies that use Stellar's infrastructure love it for faster transaction speeds and low transaction costs. Some of the companies using its technology are MoneyGram and Wyre, among others.
As part of this growth, Stellar introduced Soroban, a smart contract standard for the finance sector. While Soroban works well with Stellar's ecosystem, it does not need Stellar at all. Once launched, Soroban will be used to build apps in all industries, including DeFi. Stellar has announced a $100 million incentive fund.
Find out how to buy Stellar.
Stellar has been used to build some of the top tools in the blockchain industry. USD Coin is one of the most popular stablecoins built on Stellar. It is a leading stablecoin that is used by millions of people and has a market cap of over $45 billion.
Stellar is also used to build other stablecoins, including the upcoming Australian dollar (AUDD) that is was launched by Novatti.
A key challenge for Stellar is that the volume of XLM being traded has been in a downward trend in the past few months. Earlier adopters have been specifically uncomfortable by the lack of any major news and movements.
On Wednesday, Coinbase announced that its wallet will remove Stellar Lumens and other coins because of low volume. The others are XRP and Bitcoin Cash.
Stellar Lumens price forecast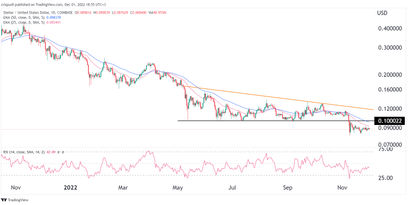 The daily chart shows that the XLM price has been in a strong bearish trend in the past few months. As a result, the coin has managed to move below the 25-day and 50-day moving averages. It also crashed below the important support level at $0.10, where it struggled to move below in September.
XLM price has also formed a bearish pennant pattern, which is usually a worrying sign. Therefore, Stellar Lumens will likely continue falling as sellers target the next key support level at $0.080.