Litecoin price remained resilient on Monday even as most cryptocurrency prices retreated and the US dollar index (DXY) surged to the highest point in over 20 years.
The LTC token also held steady as Bitcoin declined below $20,000 and the fear and greed index dropped to the extreme fear zone of 23.
US dollar index surges as fear and greed slips
Litecoin price performed better than other cryptocurrencies on Monday. The coin was trading ay $60.20, which was slightly above its weekend low of $58.57. That price was about 30% above the lowest level in July of this year.
Read more on Cryptocurrencies and investments:
Near Protocol has a market cap of more than $3.2bn making it the 26th biggest cryptocurrency in the world
BAL token defies gravity as the total value locked has jumped to over $1bn
US adults owning cryptocurrencies went up as the price of bitcoin began to fall with many seeing the drop as an opportunity
The carbon footprint of mining a single BTC transaction is 22X that of Gold
Litecoin has done well in a difficult period in the market. Bitcoin, which is the biggest coin in the world, has dropped below $20,000 while the total market cap of all cryptocurrencies is hovering at about $1 trillion.
Cryptocurrencies have mostly dropped because of the ongoing worries of an extremely hawkish Federal Reserve. Analysts believe that the bank will continue hiking interest rates since the economy is doing comparably better than in other countries.
Data published on Friday showed that the economy added over 315k jobs in August after adding more than 528k jobs in the previous month. While the unemployment rate rose to 3.7%, it remained significantly below where it was a year ago. Wage growth was also relatively strong.
Therefore, analysts believe that the Fed will deliver either a 0.50% or a 0.75% rate hike in its meeting this week. This explains why American stock futures dropped on Monday and why the US dollar index surged to $110 for the first time in decades.
Meanwhile, Litecoin's on-chain data shows that activity in the network has been a bit limited in the past few months as demand has waned.
Litecoin price prediction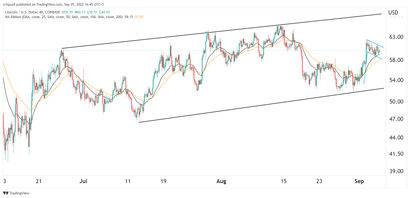 The four-hour chart shows that the LTC price has done better than other cryptocurrencies. After falling to a low of $51.61 in August, the coin rebounded to a high of $62.50 this month.
It has moved between the ascending channel shown in black. Also, it has formed a bullish flag pattern that is shown in green.
The coin has also moved above the 25-day and 50-day moving averages. Therefore, there is a likelihood that the LTC price will have a bullish breakout in the coming weeks as bulls target the upper side of the channel at $65.